Metal additive manufacturing is one of the fastest growing sectors of manufacturing during the last decade. Although more work is ahead in terms of machining speed, costs, build volumes & availability of commercial materials, few of its benefits may summarise as follows:
Mechanical properties are superior to those of cast parts and closer to those of forged parts.
Enables the creation of complex lattice structures, topologically optimized structures, recesses for configurational cooling channels, etc., that are traditionally difficult to machine.
Enables low-volume production and mass customization of high-value parts.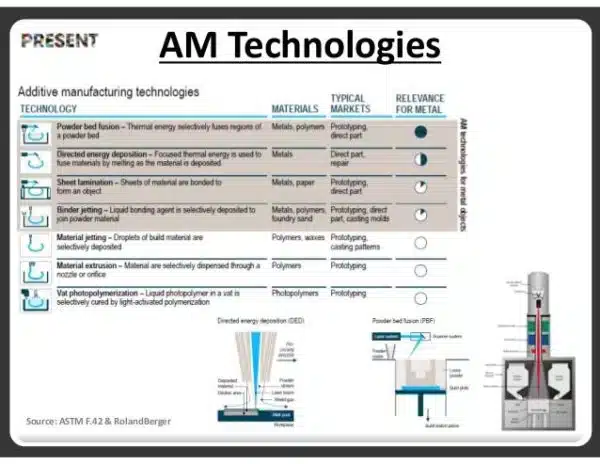 CURRENT METALS USED IN ADDITIVE MANUFACTURING
Powder bed & Directed Energy Deposition (DED) are quite popular technologies in additive manufacturing  & also recently Binder Jetting has been adopted by few industries. Powder bed employs high resolution & suitable for complex geometries, while DED technology is used for printing large parts & metal repairs. Binder jetting technology requires no support structures during printing & economical for low-to-medium metal production of small parts.
Metals which can be processed by metal additive manufacturing must meet two main criteria i) good weldability ii) available in spherical powders with a size of a few microns. This choice of materials for AM is rather limited, below is the list of metals being used to fabricate commercially to metals subjected to research in descending order: (Source)
Ni-based superalloys (Inconel 625, Inconel 718 and Hastelloy X)
Co-Cr alloys (Co28Cr6Mo)
Tool steels (H13 and Maraging 300)
Stainless steels (316L and 17–4PH)
Ti-based alloys (Ti-6Al-4V, Ti-6Al-4V ELI)
Al-based alloys (AlSi12, AlSi10Mg, AlSi7Mg0.6, AlSi9Cu3, AlSi5Cu3Mg, 1050A)
Precious metals (Au, Ag),
Refractory metals (W, Ta)
Cu-based alloys, intermetallic (titanium aluminide), and low alloy steels (AISI 4140)
Due to rapid cooling rates and directional solidification, metals produced by additive manufacturing have microstructures & material phases that differ from their cast and wrought counterparts. The mechanical behaviour may differ substantially from conventionally processed materials as illustrated for various types of alloys in the figure below. Defects such as porosity due to unmelted powder & gas entrapment, residual stresses due to large thermal gradients are the inherited features of additive manufacturing parts. The defects can be overcome by post-built processes & heat treatment methods.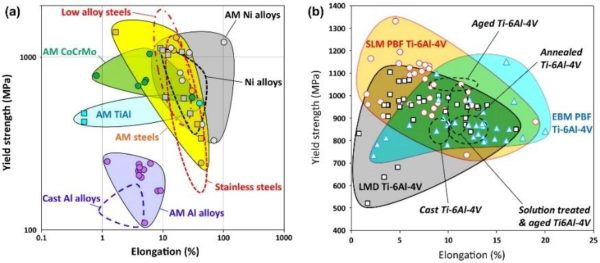 In terms of volume production and level of adoption, the most common alloys are Stainless Steel, Titanium & Nickel; this alloy are quite popular due to their high weldability & mechanical properties.
STAINLESS STEELS
A variety of stainless-steel metal powders are used in additive manufacturing processes including 316L (low-carbon), 17-4PH & maraging steel.  Maraging steels (MS1) is a popular choice for fabrication of high strength cutting tools & injection moulds insert with conformal cooling; hardness of about 55 HRC can be attained after heat treatment from as-built condition. Immensa has good experience & expertise steel grade 3D printing catering to the UAE industry; few of cases from Immensa portfolio of parts are showcased below.
TITANIUM ALLOYS
Titanium alloys like Ti6Al4V makes its popular choices in 3D printing due to its low weight to strength ratio & to its cost advantages compared to conventional machining. It maintains its high tensile strength even at operating temperature of 300~400 °C. It's adopted widely for 3D printing in aerospace components where the buy to fly ratio is 20:1 by traditional methods. Also, widely used in medical implants & automotive components where high strength & light weighting is desired.

NICKEL-BASED ALLOYS
Nickel chromium super-alloys like Inconel 718 and Inconel 625 produce strong, corrosion-resistant metal parts. This Nickel alloys are very difficult to machine due to high hardness & makes them suitable candidates for 3D printing.  Inconel 718 is mainly used to produce metal parts used in gas turbines, jet engines, cryogenic storage tanks and petrochemical applications.

Currently, a lot of material research is underway & over time a significant number of metals will be qualified for AM along with introduction of machines with faster build rates, higher lasers power and larger build volumes.