Living in the wake of a pandemic and the progressive shift towards digital technology has caused businesses in the Middle East and beyond to explore more innovative solutions that ensure a seamless supply chain and warehousing processes. Additive manufacturing (AM) and advanced digital warehouse solutions from Immensa assist businesses with staying competitive, offering an improved manufacturing and parts acquisition process.
Assisting clients with AM and digital warehousing solutions
Immensa's additive manufacturing and digital warehousing solutions have produced leading results for many of our clients. Explore our case study below.
Two of our UAE clients approached us with a shared dilemma related to a shortage of a gear required for the assembly of a honing machine, and long lead times when trying to acquire the spare part in question. Used for surface finishing and tolerating bores, it was observed that there was a challenge when constructing and designing the gear, with the connection between the gear and the outer casing causing regular shearing. This is demonstrated in the image below.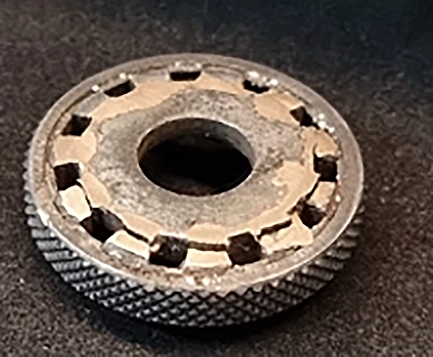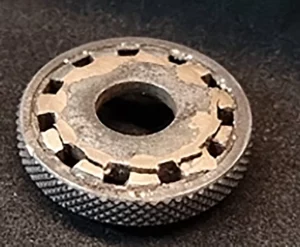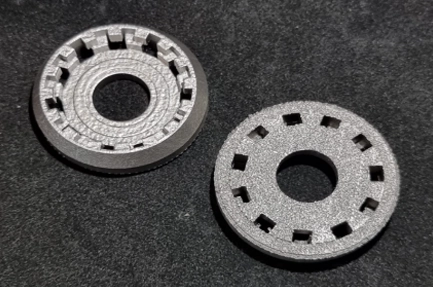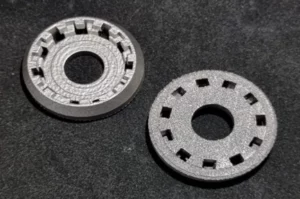 Lead times to acquire the new spare part were generally taking up to four months to arrive which was leading to considerable downtime in machinery. Due to this, the client decided to leverage the benefits of our additive manufacturing and digital inventory solutions to produce the spare part on demand while lowering operational costs and downtime.
The challenge
The reverse engineering of the part proved to be challenging due to the defected gear teeth. The accuracy of the inner diameter of the gear and the back surface were critical to this application. The assembly was to be manufactured in such a way that it would no longer shear while in use. The assembly contained two individual parts. One was cracked and the other had signs of wear.
The solution and results
The client provided the broken part which was reverse engineered to create a printable CAD file and a 2D drawing. The design was made in such a way that the gear was integrated. This led to a reduction in the possibility of shearing. In addition to this, Maraging Steel (1.207), which has higher tensile and hardness, was used to reduce the chance of shearing. Stock was added to the critical surfaces to be machined later.
As opposed to a three to four month lead time, Immensa reverse engineered, manufactured and delivered the gear within less than 24 hours. Follow-up orders were delivered in just five hours. Gear performance saw considerable improvement and no longer sheared at the weak point. Due to the cost savings associated with reduced downtime and inventory, improved performance, and on-demand gear manufacturing, the part in question was the ideal candidate for our digital inventory system.
The benefits of digital warehousing
Warehouses are under pressure to effectively deliver consistent SKUs, with lack of access to spare parts posing an issue to on-demand requirements.
Here are a few reasons to adopt a digital warehousing approach:
Remote access to spare parts : digital warehousing solutions enable more efficient warehousing operations by providing on-demand access to spare parts stored within a secure digital library from any remote location. Parts can be manufactured locally, ensuring access to parts as required.
Lower operational costs :

businesses can lower their operational costs by storing a "digital twin" of the spare part and utilizing little to no warehousing space due to digital parts being stored in the cloud and able to be replicated on demand. Additionally, error- and staff-related costs are also reduced in the process.

Optimal forecasting solutions :

consumer trends are constantly evolving—a factor that may lead to warehouse operations having a shortage of stock or sitting with dead inventory. Digital warehousing enables data acquisition and the use of predictive analytics tools for accurately forecasting shifts in trends to allow for more intelligent decision making in the future.

Improved efficiency :

digital warehousing minimizes lead times for parts acquisition, saving time and money on lack of access to obsolete parts and mitigating the risk of dead inventory. By enabling the manufacturing of parts only as required, money is saved on wasted stock and supply chains are able to operate swiftly and efficiently.
Digital warehouse solutions not only ensure ease of access to spare parts on demand, but also provide the ability to replicate and store parts that are difficult to access at a later stage.
Immensa offers additive manufacturing and digital warehousing services, utilizing the most technologically advanced practices to safely and securely store client files and data, protect digital assets, and perform data analysis on digital spare parts.
Visit our website to start exploring our solutions today.